It this article you see which type of goals we have in Dialog and how to create your personal plan with help of our support tool. We also show you which steps you can take in the support tool.
Performance and development goals
In Dialog you can record what you want to achieve in the coming period, and a distinction is made between to types of goals:
Performance goals - these goals are generally measurable goals aimed at achieving results.
You can create Performance goals below the tab 'My position' and 'Team goals'.
Development goals - these goals are goals that are generally focused on personal growth and development.
You can create Performance goals below the tab 'Competencies' and 'Development'.
Note: Your organisation may differ from the above terms.
Opening the Support tool via goal page
We are happy to help you set your personal goals! We do this by the use of a support tool. This support tool has been set up by your organization, so it can help you setting your goals.
The support tool opens immediately when you log in for the first time. Do you want to get started with your Personal Plan at a later moment? You can always close the support tool by clicking on the cross or by choosing the 'Skip' button.
You can always open the support tool again by clicking on the 'magic wand' to the right of your name.
Tips for creating your personal plan
Before you start creating your personal plan, we have some tips to keep in mind.
The steps you see are there to help you set your goals. So you are not obliged to generate a goal at every step.
Don't create more than 3-5 goals, so your plan doesn't get to big. Do you find it challenging to set goals for yourself? Then ask your supervisor to help you with this!\
Think in advance about the number of performance and development goals you want to set for yourself. If you have set too many goals, you can lose the overview and because of this you can't focus enough.
Consult your plan with your supervisor and/or colleagues to see if they have feedback suggestions for you. In that way you can be sure, that you can get the best out of yourself.
Personal plan
Click on 'Create Personal Plan' to get started! The image below is an example of a road map, your organisation may have different options, order or terms.
My position
At the 'My position' step, you decide for yourself what you can do to grow in your current position.
You can:
click on the 'i button' behind the position to see your job description.
You can use your job description as an inspiration to formulate your goals.
Would you like to start working on a responsibility? Then select the box in front of that responsibility.
It is also possible to make a goal of your own, which stands apart from your responsibilities. If you want to do so, you can click at the bottom on '+ Add your own goal'.
Click on 'Plan' to see how your plan looks like at that particular moment. Click on the arrow to hide this sidebar again so you can focus on creating your goals.
Teamgoals
At the 'Teamgoals' step, you decide for yourself what you can contribute to the goals of your team or organization. If you want to contribute to a team or organizational goal with a personal goal, select the box in front of the relevant goal. Now a window opens where you can give content to your goal. Here's how to set your goal:
Name your goal - keep your goal name short in order to keep the goal overview readable. If you want to share more information, please write this in the description.
Describe your goal - indicate exactly what you want to achieve and why you want to do it. This way you make concrete what your goal is and what you want to achieve with it.
Cut your goal up into actions or measurable results - this way you make your goal manageable and measurable, making it clearer to you, how you are going to achieve the goal.
Do you want to know more about the actions and steps, click here for more information.
Link your personal goal to a team- or organizational goal - here you can see, to which team or organizational goal your goal contributes. By letting your goal contribute to a team- or organizational goal, you and your colleagues can help achieve these goals together.
Click on 'Create goal' to add this new goal to your personal plan
Competencies
At the step 'Competencies' you determine for yourself, in which competencies or core value you want to grow. When you want to practice with a competence or core value, select the box in front of a development goal.
The goal is automatically filled, based on the competence. You can personalize your goal yourself, by adjusting the name or description. Of course, you decide for yourself which behaviors you want to practice with. By clicking on the three dots you can delete a behavior. In addition, you can also add extra actions, results or behaviors, to achieve your goal. After creating your development goal you always have the option to change a behavior.
Development
At the 'Development' step, you decide for yourself, what it is you want to develop further. Here, your organization has added a number of questions, to help you think about what you would like to develop yourself in. These questions are to inspire you, to come up with an additional new development goal.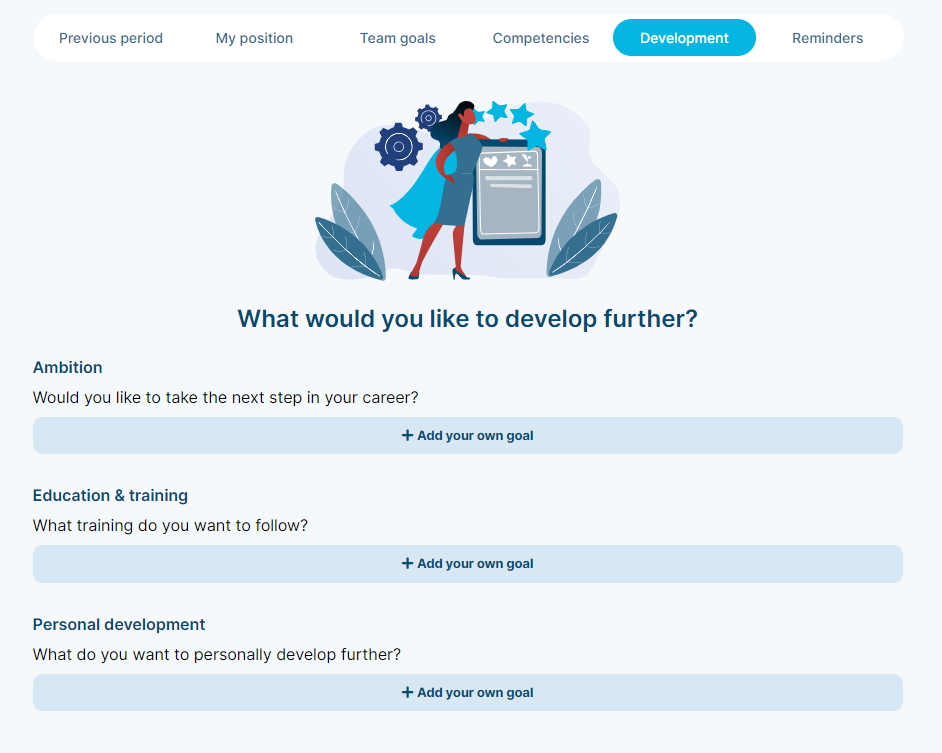 Reminders
At the 'Reminders' step, you determine for yourself how often and on what day you want to be reminded of your Personal Plan. To achieve your goals, it is important to keep enough focus on them. Therefore, you can choose to periodically receive an email, with what you have intended to achieve and develop. The more you reflect, the faster you grow!
Click on the 'Complete' button below to save and get the option the send your plan.
You decide whether you want to send your personal plan to your supervisor or not to send it. After you made your choice you will return at your goal page.
Now you have successfully created your Personal Plan in Dialog and you can get started!
Do you want to know more about creating goals? Have a look at the following articles: