Do you want to change the settings of your review cycle or add a review moment? Find out how to change the settings of an existing cycle.

1. Click on 'Management'.
2. Click on 'Review cycles'.
3. Click on the cycle that you want to manage. A screen opens where you can change general settings and manage evaluation moments for the organization.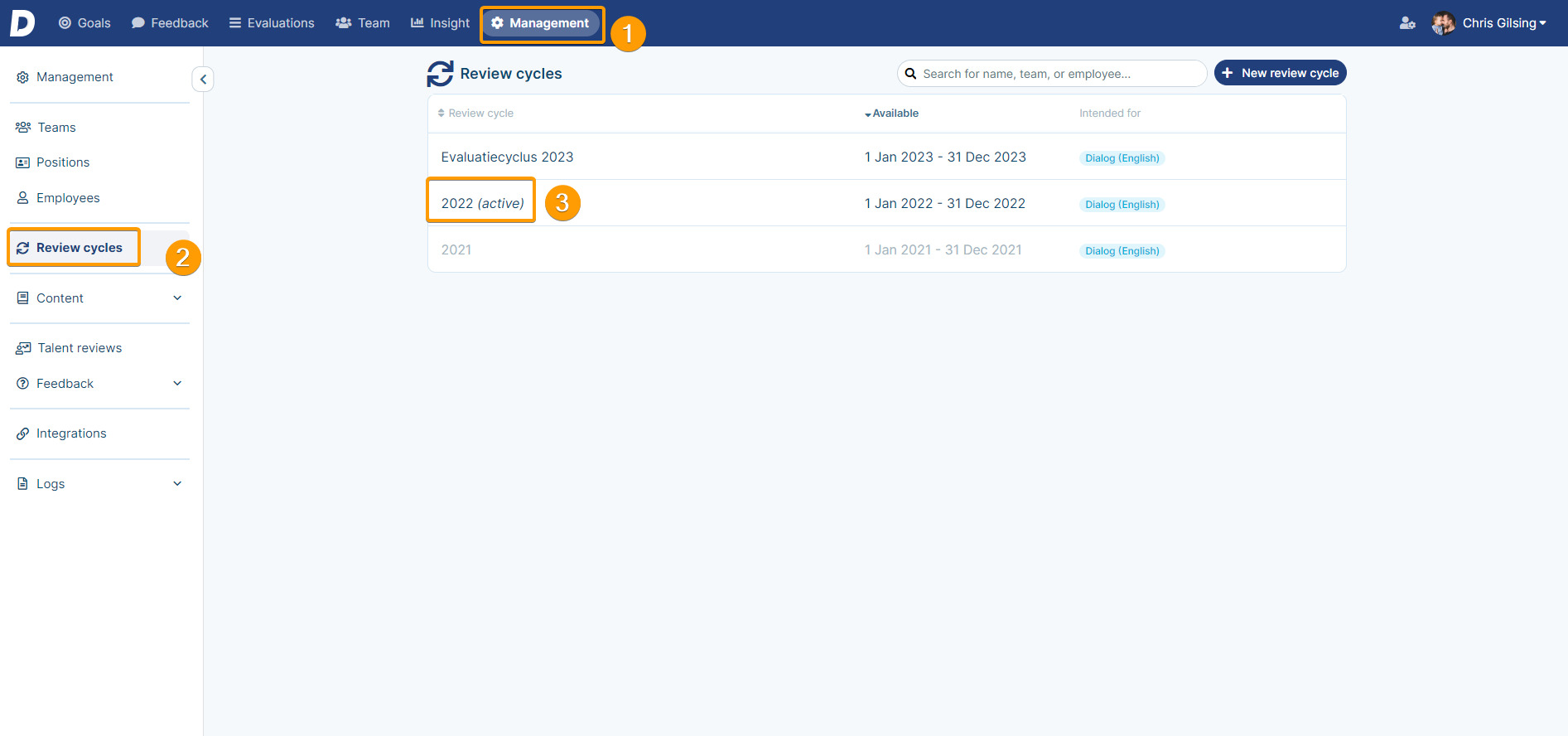 General Settings
In the 'Planning' tab, you can manage the general settings like:
The name of the review cycle
The startdate and duration
Indicate whether employees should receive a reminder to create goals (again)
You have the choice to repeat the cycle automatically, if you want this, check that option here.
Click on the button 'Save' to save all the changed settings.
Indicate who completes the evaluation (only employee, only supervisor, employee and supervisor)
Select a template for the evaluation moment. What does the digital form look like that will be completed for this evaluation moment?
Indicate whether and on what date an e-mail must be sent so that the evaluation can be completed
Manage evaluation moments
In the 'Moments' tab, you can define at what times the employee and/or supervisor can write the evaluation.
Enter the name of the evaluation moment. If you use multiple languages, click on the flag to add a translation.
At available from, you enter the date from which the employee and/ or supervisor can start writing the review.
At available until, you can indicate the date by which they should have completed the review. Note, this is not a hard date, also after the date has passed you can still write and complete the review.
Indicate who is going to write the review (only the employee, only the reviewer, employee and reviewer)
If you want to see what the evaluation form look like or select another form, click on the pencil. If you would like any points adjusted in the form, you can send a preview to support@dialog.nl.
Check if the employee and supervisor must approve the review to complete.
Check whether you want a notification for the evaluation moment to be sent. You can then specify the date you want to send it. If you want to write your own e-mail text, you can add it in the text field.
Check if you want a reminder to be sent halfway through the moment to all employees who have not yet written their evaluation.
If you want to calibrate for an evaluation, read how to set that up in this article.
When you are done, click on 'Save'.
Click on 'Add evaluation moment' to add a new evaluation moment in your cycle.